Whether it was that extra project you took on at work, the surveys you've been completing, or the health goals you meticulously tracked in your insurance company's phone app, you just earned yourself a digital Visa Prepaid Card®.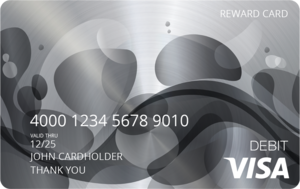 Now that you have your reward in hand, having redeemed it for either a digital code or a physical card, the real fun starts. Check out ten of the most popular ways to spend a Visa Prepaid Card to get started:
10. Add it to any account that lets you store a balance—Amazon, Target, Starbucks, or Walmart, for example—so you can spend it whenever the mood strikes.
9. Donate to your favorite non-profit organization—every dollar counts!
8. Buy birthday gifts for friends and family throughout the year.
7. Redeem multiple cards at the same location to buy a larger ticket item.
6. Save it to give yourself extra spending money during the holidays.
5. Spend as you go: Coffee and a donut at Dunkin' Donuts or Starbucks; errands at Target and Best Buy; and dinner and a movie with Maggiano's and Fandango.
4. Forgot to pick up pet food? Spend it at PETCO to get an extra treat for Fido or your feline companion.
3. Use it online or by phone to order delivery from your favorite restaurant.
2. Buy an item online and pick it up in store, saving yourself the cost and delay of shipping.
1. Need gas for your next road trip? Choose the physical card, making sure to order it a few weeks before your trip to ensure it arrives on time.
No matter how you choose to spend your reward, you're just five clicks away from fun—or groceries—but either way, you're not paying because you're using your Visa Prepaid Card. If you're interested in offering a Visa Prepaid Card as part of your employee or customer rewards program, email us.
Written by Carie Esquenazi Carie has worked as a Spanish customer-support specialist at Tango Card for almost a year making rewards more awesome to receive with every phone call and email she answers.
Want more thought leadership from Tango Card? Sign up here to be alerted when we post new content, host webinars, and speak at events.
Categories